If you wish to find a contact, you can do this by using the search function in the contact list. ExorLive has a well-developed search system, which will make it easy for you to find your contacts.
There are several ways to get to the contact list. For instance, you will see the contact list every time you save a training program on a contact, view activity log for a contact, create activity in a contacts plan, or create follow-up on contact.

If you want to make an isolated search through your contact list, you can click on the "Contacts" tab, where you will find your contact list (Picture 3).
Regardless of how you opened your contact list, the search procedure in the contact list is similar:
If you click on the drop-down menu, marked with "My Contacts", in the top left corner (Picture 1), you can choose whether you want to search through your own contacts, contacts in your unit, contacts in your organisation and, in some cases, among sent ExorLive Go invitations.
In the drop-down menu marked "All contacts" (Picture 2), you can filter your contacts after their roles.
If you wish to perform a simple search on first name and last name, you can do it in the search bar all the way to the right.
Picture 1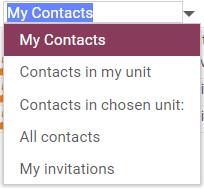 Picture 2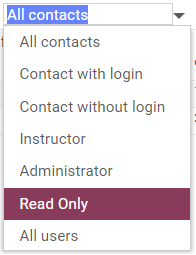 Picture 3