After you have found a plan template, you might want to open it. To edit a plan template, tap "Edit template" in the "Open plan template" window. If you are unsure which template you want to edit, it is possible to open a template and edit it after viewing the details.
After clicking "Edit Template" you will see an "Edit Plan Template" window. Here you can adjust the title, description, share level, tags and image. If you want to forbid others from editing your plan template, you can check the "lock"-box.
Note! The administrator of your organization will always be able to edit your plan template.
Edit activities in plan template
If you wish to edit activities in a given plan template, you can do so, by clicking on "Edit Activities" in "Edit plan template"-mode.
You should now see a week overview over the activities within the plan template.
Here, you can edit the template as you please: You can add a new week to the template by pressing "+Add Week" or you can use the symbols on the right to duplicate (
), delete (
) or rearrange (
/
) the weeks. You can also use the mouse to drag activities from one day to another, or select an activity to either edit, duplicate or delete it.
If you would rather see the activites in a list, press "list view" in the top left of the window.  You will get several columns:
Day Number: Illustrates which position the activity has in a day order of the template.
Title
Description
Start Time: illustrates the start time of the workout
Exercises: Shows the number og exercises in a workout
Duration (Minutes): Shows duration of the workout in minutes
You can change the day number and workout duration of any workout, by selecting the workout and clicking on "Edit", or by double-clicking on a workout.
You can also duplicate or delete the workouts by selecting a workout and clicking on "Duplicate" or "Delete", respectively. If you want to edit the exercises in the workout, click HERE to see how.
When you are finished with your adjustments, click "OK" and "Save Changes" to save your recent changes.
Add program to plan template
It is possible to add a program directly into an existing plan template. To do this, open a plan template, then press "Edit template" and then "Edit activities".


In the week view, click on the day you want to add a program, and select "Add Activity".

From the list of your programs, you can now add more programs to the plan. Press "Save" until you're back to the overview of the plan to save your changes.
View/Edit exercises in plan template
When adding a plan template to a plan, you can view and edit the individual exercises in each program. To do so, open a plan template, then press "Edit template" and then "Edit activities". Here, you can either select one of the existing programs and press "Edit" or add a new one.
In the window that pops up, you will now see a button called "VIEW/EDIT EXERCISES".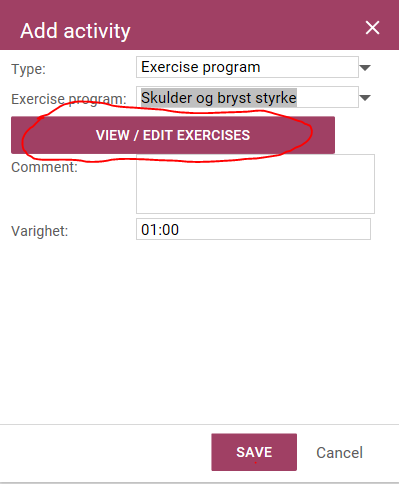 Here you are now able to edit the parameters of the exercise, e.g. sets, reps and duration, but you can also edit the name and the description of the exercise. Press "OK" and then "Save" to save your changes.