ExorLive is built to handle everything from a single user to large international organizations.
Therefore ExorLive has a robust and comprehensive administration system.
The administrator of the organization has access to a separate "Admin" Tab where topical administration can be performed.

In addition, the support department in ExorLive has an overarching management system that take care of more advanced tasks.
 Roles and rights   
ExorLive has a flexible copyright system that is role-based.
The following roles and privilege levels are:
Instructor
Rights:
Can create and open patient, save and sign training program on the basis of existing or new program, as well as create custom templates that can be seen / edited by the specified users. Able to create and save program templates that can be saved and made available only to specific users.
Unit Administrator 
Rights:
Creating new users, deactivate /activate users in their unit / department and the units / departments.
Organizational Administrator 
Rights:
Manages the entire organization, including licensing, organizational structure and appearance. Adding new users, assign device administrators, activate / deactivate users. Able to delete current training programs.
System administrator in ExorLive 
Can provide relevant rights and setting the organization and system level.
Contact with login (Client/Patient with account)
Rights:
This role entitles the user to see their own training program with video, log their training and see progress through their mobile/tablet/PC. The user only has access to their information. The user has access to programme suggestions, if this is provided by the administrator / instructor in the organization.
Contact without login (Client/Patient without account)
A contact in ExorLive without account.
Creating users  
As an administrator, you can create new users as follows:
Click "Add User" and fill in the desired characteristics.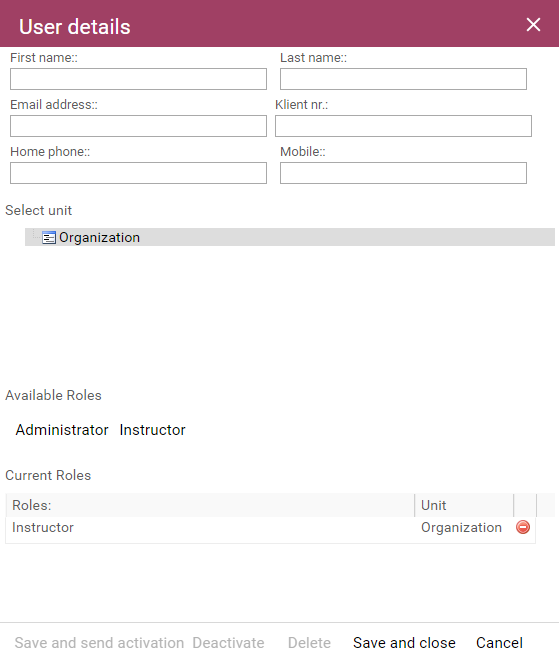 Fill first name, last name and email address.

Select a placement for the user within the organisation structure

Select role

Click save
Advice:
You can use ExorLive's API to create users, or send a list (eg. an XML file) to the ExorLive support staff to import in bulk.
Creating subunits 
You can create and edit organizational structure as follows:
Right-click the organization's "root", ie top organizational and select "Add unit".

You can also add sub-units at various levels, as well as removing and changing units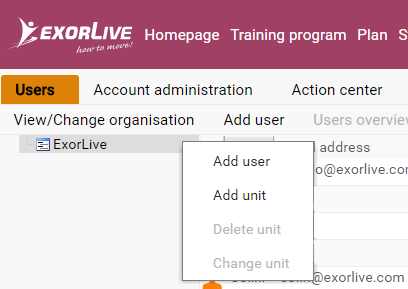 Find a user
You can find users by using the search box on the top right, or filter on roles:

Open and edit a user 
A administrator can open a detailed dialog of a user by double-clicking on the user in the user list, or press "i". Then the following will display: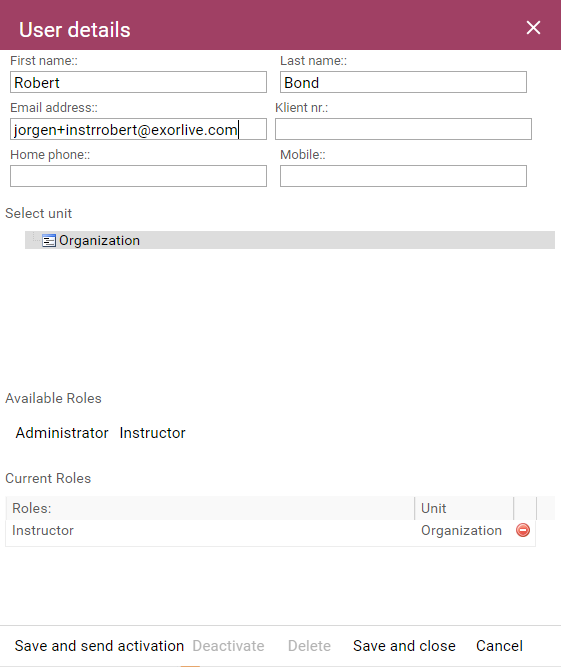 Here you can also deactivate/activate, and delete a user. If a user is not previously activated, you can send an activation E-mail where the user, through a link can select passwords and activate their account.
Delete users 
The administrator can delete a user by opening the users detailed dialog and press "Delete."
Organisation Details 
Under "Main Application" in the list to the left you can see and alter information that is relevant to your organisation.
 Name of Organisation
Organisation E-mail
Standard Language
Organisation logo
Print Settings
"Print Settings" lets you see information relevant to the printing of workouts and customize how they look for each department.
Select which department to customise

Logo that will appear on all printouts

Change what organisation name appears on print (useful for departments)

Visibility of contact information that appears on all printouts

Standard program information that will appear on all printouts
Tabs
Here you can select which tabs (at the top) will be visible to users of your license.
Homepage
This section lets you customize what information is available on the Homepage after logging into ExorLive.
ExorLive Go
In this section you can make sweeping changes to how ExorLive Go looks to your contacts. Even without a Toolbox license you can play around with these settings and get a preview of how it would look.
Select what department you wish to customise

Add logo for coloured backgrounds

Add logo for white/light backgrounds

Choose your own background colour

Select what information is available to the contacts using your ExorLive Go