In ExorLive, you can find exercises and exercise programs suggestions in a single query.
You can either use text search or filter search or you can combine text and filter search.
Text search
In text search, you can write keywords, you associate with the exercise, such as:
squats
hip strength without equipment
hip abductors
ankle stability
strengthen knee children
hamstrings stretching
ExorLive has built dictionaries for both spelling and synonyms, as well as different types of tags - so it will be easy for you to find the exercises and workouts you are looking for.
You will also notice that exercises, you use frequently, will be more visible than other exercises.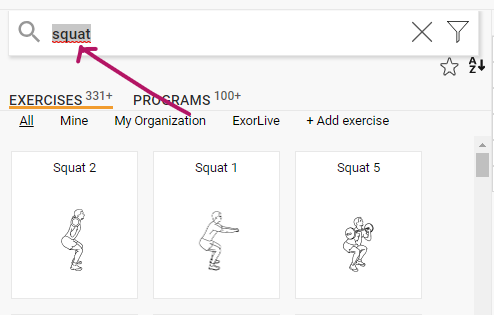 Filter search
You can also find exercises and programs using the filter function. On the right side, you can see the filters available in ExorLive. By choosing one or more of these, they will appear below the search bar, and the search result will be filtered by these. If you also write something in the search bar, the result will also be filtered by the filters chosen.